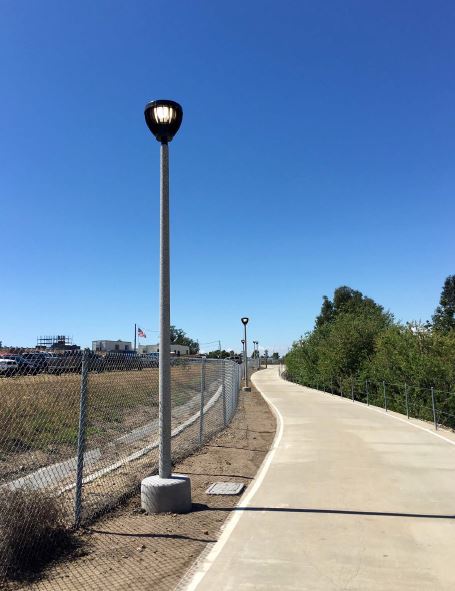 The City of Irvine recently completed improvements to the San Diego Creek Bikeway, which connects Irvine to the neighboring City of Newport Beach. With the help of $90,500 in Clean Transportation Funding from the MSRC, the city enhanced trail safety and visibility along a 1,100 foot segment of this frequently traveled bike trail adjacent to the Irvine Spectrum.

The city received funding from the MSRC's Local Government Match Program, which provides co-funding for clean air projects by cities and counties within the South Coast Air District that utilize their AB 2766 subvention funds. The city installed 12 "pumpkin" light poles – one every 80 feet - to ensure sufficient lighting on the trail. Other safety improvements included installing and repairing cable railings along the trail in areas where they were missing or broken, and putting in pavement striping and bikeway signs to direct cyclists to trail access points. Because perceived safety issues like poor lighting or unsafe railings are seen as obstacles to biking, the MSRC's funding helps remove these obstacles to encourage more people to use bicycling as a clean mode of transportation.

"The City of Irvine believes encouraging cycling helps create a vibrant community where people don't just live and work, they thrive," explained Kal Lambaz, Senior Project Manager with the City of Irvine's Public Works Department. "To this end, the city provides 355 miles of bike paths - 301 miles on-street and 54 miles off-street - for commuting and recreation, and offers interactive maps, directions, safety tips and information on our website to facilitate their use." In fact, in 2009, the city's efforts were recognized by the League of American Bicyclists, naming Irvine a Bicycle Friendly Community, the first such distinction given in Orange County.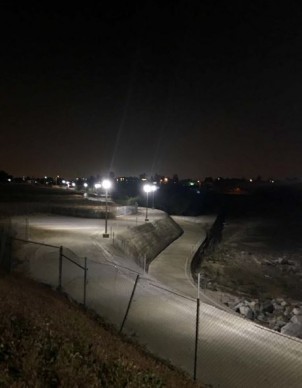 Traveling by bike versus car helps reduce the amount of air pollution generated by vehicles, while also reducing petroleum consumption and traffic congestion. In a year, a typical passenger vehicle can generate about 1 ton of carbon dioxide during a 10 mile-roundtrip commute, five days per week, so getting people out of cars and onto bikes helps improve air quality.

The city's bikeway network encourages the use of bicycles for commuters as well as for recreational activities. Kal noted that, "over the past five years, Irvine has experienced an average annual population growth of 4 percent. The proximity of this trail to residential communities and the Spectrum Center offers residents and commuters a safe, convenient way to walk or bike to work and lunch."