In January, the City of Moreno Valley launched a new employee Bikeshare program enabling its workers to use free bikes to go to lunch or run errands during the workday and avoid travel that normally would be done by getting into their cars. 

The MSRC provided $32,800 through its Local Government Match Program for the six-month Bikeshare demonstration, along with three permanent accompanying projects to support the program that include new bike lanes, bike racks, and a trail crossing improvement which added flashing beacons to enhance safety. The City leveraged the MSRC's funding with funds from the Western Riverside Council of Governments' (WRCOG) BEYOND Program which provides funding to agencies for local sustainability projects. 
According to Eric Lewis, the City's Traffic Engineer and coordinator of the Bikeshare program, "there are lots of people who go out for short trips (generally 1-3 miles) to grab lunch that could easily be done by bike. We want to reduce pollution caused by these short, single occupant trips. We also wanted to introduce people to the concept of using alternative modes of transportation for quick trips, so that's how the project was born."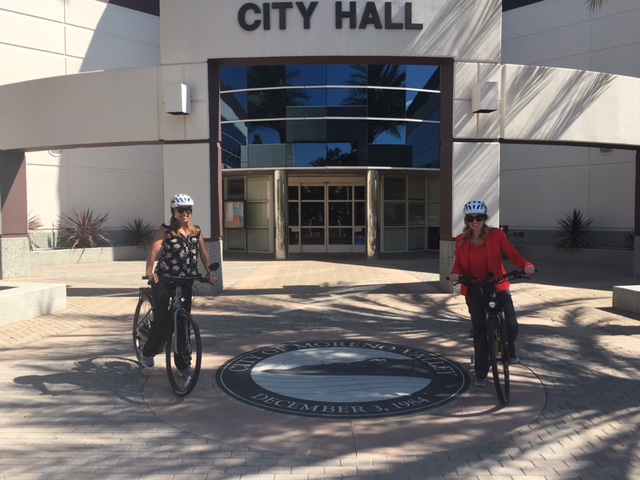 Moreno Valley received funding for two electric bikes, but found that additional sizes were needed so that people fit the bikes they were riding better. Eric borrowed two additional e-bikes from a local bike store to offer additional sizing options. Additionally, he discovered that larger groups of people wanted to go to lunch together so instead of two people now a group of four can ride together. The City has funding remaining from the WRCOG grant and he hopes to use this funding to purchase two additional bikes.
To recruit participants, Eric sent an email blast to all City employees, outlining the program. About 30 employees attended a training session to demonstrate the bikes and to receive information on bicycle safety. As an incentive, the City provides free helmets for all participants, which are required. Eric has provided additional incentives to participate; if an employee rides the bikes once they are entered into a monthly drawing for biking-related prizes. He's even offered to go out with new riders on their first trip to give them additional instruction on bike handling and rules of the road.

The City is tracking how many trips are taken per month, the distance traveled, and whether the bike replaces a vehicle trip, which has been the case for all trips so far. Eric estimates that at least 10-15 trips per month are made using the bikes. He said there is a core group of riders that are regulars.

The reaction he's received from employees has been positive. "They've said, 'this is easy' and 'we've had fun,'" Eric said. "One challenge we've had so far is the weather, but interest has been growing as the weather improves." 

Another benefit to the program is that employees can use the bikes to commute. Currently, there are two employees, including Eric, who have commuted with the bikes. Their commutes are about 6 to 7 miles one-way. Eric is hoping to lead by example and show employees that biking can be used for longer trips as well.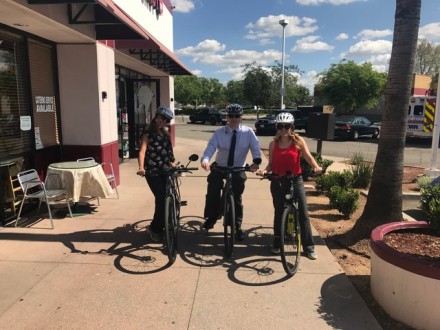 The funding also is being used to install bike racks at local businesses, including in an area that has a cluster of restaurants which employees tend to frequent. "Having that end-of-trip facility is important to not only maintain the safety of the bikes but also as a way to promote local businesses." He hopes this will lead to a bike-friendly business concept where if an employee rides a bike to a participating business they will get a discount on their purchase, which will bring more business in from the City's lunchtime crowd.

The biggest hurdle they encountered when starting the program was insurance and liability concerns. However, this was remedied by requiring employees to sign a waiver and by limiting bike use to employees' free-time only and not for trips related to City business. "If agencies are apprehensive about starting their own program because of liability issues, we've demonstrated that this can be overcome," Eric said.

The City wants to expand the fleet to not only accommodate more employees at City Hall, but perhaps with future MSRC funding, expand the program to other locations like its Conference and Recreation Center or the Corporate Yard, which has direct access to a regional bike trail.

After the six-month demonstration concludes, the City plans to continue the program because the City believes in it, Eric commented. "Hopefully our program is a model for a successful e-bike sharing program and other agencies will jump on board," he remarked.