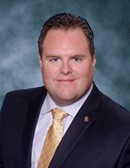 When newly appointed MSRC member Ben Benoit was growing up in the Coachella Valley, he remembers riding on dirty diesel school buses that generated dark plumes of smoke. During many hot days in the Valley, Benoit and all of his classmates would have to breathe in the fumes through the open bus windows because there wasn't any air conditioning. Similarly, when he waited to board the school bus, the exhaust fumes from the idling buses were foul smelling and nearly suffocating. Even as a kid, Benoit knew that breathing that toxic air couldn't be good. 

Benoit compares his childhood - and that of so many others growing up under Southern California's smoggy skies - to those of kids in Pittsburgh and other industrial cities from 50+ years ago who must have thought it was normal to live with polluted air. Benoit is dedicated to ensuring that his children and all children only know clear skies and clean air as normal.

Benoit is proud to be able to serve on the MSRC because it has been so instrumental in helping to fund clean transportation improvements over the past two and half decades. Benoit recalled in his city, Wildomar, you now see LNG fueling stations that power many of the school buses and other vehicles that used to spew diesel exhaust all thanks to MSRC grants and other clean transportation investments.

Benoit is proud to contribute to MSRC's work and he hopes to help tackle the intractable problem of reducing and transitioning the number of heavy duty diesel trucks that transport goods from the LA and Long Beach Ports to the Inland Empire and beyond. Benoit is excited about the impact of technology to advance low NOx and even near-zero emission trucks and looks forward to the MSRC continuing to provide incentive funding for fleets to invest in cleaner vehicles. He is also especially proud of the Major Event Center Transportation program that is helping expose hundreds of thousands of sports and entertainment fans to mass transit – many for the very first time.

Ben Benoit was first elected to the Wildomar City Council in 2010 and served twice as Mayor and is currently Mayor Pro Tem. Mayor Pro Tem Benoit is also the Chairman of Western Riverside Council of Governments (WRCOG) and was a part of the Board when it won the President's Award for Excellence from the Southern California Association of Governments (SCAG) for WRCOG's HERO program. The HERO Financing Program is the nation's largest Property Assessed Clean Energy (PACE) program, and Benoit is a strong supporter of bringing this program to other municipalities throughout California. He also is looking forward to making sure that local officials and staff are aware of the MSRC's funding opportunities and priorities – especially the local government match program.

Serving on the Riverside County Transportation Commission (RCTC), Mayor Pro Tem Benoit has been a strong supporter of helping further Metrolink's reach into Riverside County. He was active on the Perris Valley Line (PVL) ad hoc committee, and is proud of his participation in bringing such an important project to fruition. 

The MSRC is lucky to have a new member with Benoit's experience, expertise and passion for finding and investing in programs that will ensure Southern California kids can breathe easier now and in the future.