The MSRC is excited to support the World Series bound LA Dodgers by funding the wildly successful Dodger Stadium Express for the seventh year in a row. Operated by LA Metro, the Dodger Stadium Express will offer free bus service for ticketholders for all World Series home games as it has throughout their amazing 2017 season and playoff run. More than a million fans have taken the Dodger Stadium Express since the service first started.

Dodger fans were a big part of the team's success this year – and the Dodger Stadium Express service played a big supporting role in speeding fans to and from the game all year-long. There's simply no better way to get to the stadium than on a packed bus full of Dodger fans who get to blow by traffic in a bus-only lane while knowing they're helping clean our air by avoiding more car trips on LA's choked freeways.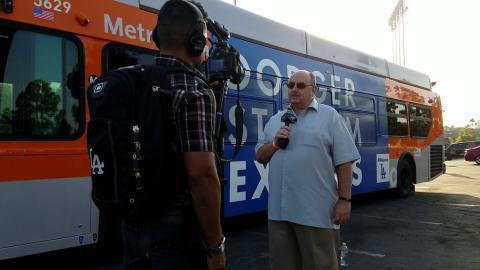 Starting with Game 1 today, Metro will be providing clean dedicated CNG-fueled buses for game ticket holders to ride free to all of the home World Series games from both Union Station and the Harbor Gateway Transit Center in the South Bay. From Union Station, buses will leave every 10 minutes, starting three hours before the games, and from the South Bay, buses will run every 20 minutes, starting two hours before the games. So, if you're one of the lucky few fans headed to watch the Dodgers play in their first World Series in 29 years, make sure to beat the traffic and get there early because the stadium will be packed!

More information is available at http://thesource.metro.net/2017/10/20/go-metro-and-take-the-dodger-stadium-express-to-the-world-series/

Go Dodgers!