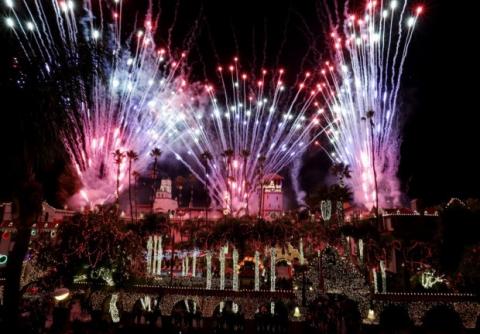 The MSRC has invested in a number of important clean transportation projects throughout Riverside County to help demonstrate alternative modes of travel. Here's a brief recap of some of our project initiatives:

Transportation to Festival of Lights
Metrolink received an award for nearly $240,000 to fund special train and bus service to the Festival of Lights at the Mission Inn in Riverside. The service will start with the lighting ceremony on November 24th. More information is available at https://www.metrolinktrains.com/destinations/festival-of-lights/ 

Go Human Campaign
The MSRC also has invested in a couple of innovative Go Human initiatives in Riverside County. Go Human is a campaign that encourages Southern Californians to use human-powered transportation and change how we think about others on the road.

Go Human Vision San Pablo (Palm Desert)
In partnership with the City of Palm Desert, Riverside University Public Health, First Weekend, and Desert Recreation District, Go Human's Vision San Pablo brought together the local community to explore exciting new proposals for revitalizing downtown Palm Desert. As part of the city's larger visioning exercise, Vision San Pablo's intent was to showcase ideas for making San Pablo Avenue more pedestrian‐scaled. The high‐capacity low‐volume corridor between Catalina Way and Alessandro Drive is home to a cluster of local businesses, but unwelcoming to people using active transportation, and lacks a sense of place.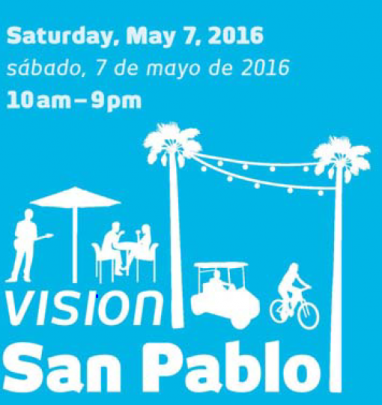 With Vision San Pablo, Go Human was able to showcase a protected bike lane, parklets, and a roundabout – a traffic circle that allows cars to continuously move through an intersection to reduce congestion and pollution - during the city's popular First Weekend event. The demonstration was coupled with recreational activities for children, SunLine transit education, mural painting, and First Weekend's live music, art booths, and food trucks. Many local residents were engaged at the city's information booth, learning more about the visioning of San Pablo and how it can be transformed to be more pedestrian and bicycle oriented.

As a result of the overwhelmingly positive feedback, Palm Desert's City Council approved the design for the improvements to San Pablo. Vision San Pablo illustrates how to utilize temporary projects to facilitate implementation and gain community support. Permanent improvements to San Pablo Avenue include a road diet – where a multi-lane road is reconfigured to enhance safety, mobility and access for all road users including bicyclists and pedestrians. Additional features of the street transformation include:added shade trees, roundabouts, wider sidewalks, protected bikeways and recreation pockets, and connection to CVLink.

Go Human at Riverside Arts Walk (Riverside)
Go Human made a presence at the Riverside Arts Walk, a monthly community event celebrating diversity in arts and culture. Sprinkled throughout downtown, Riverside Arts Walk presented an
opportunity for Go Human demonstrations to be tested directly by an active community during a festive weekday evening. The City was very interested in pursuing scramble crosswalks at high pedestrian volume intersections to promote easy access to navigate downtown Riverside. One of the two demonstrations was longer‐term – designed to be up for several weeks as the city received additional feedback. Go Human also showcased a pop‐up pedestrian plaza and artistic additions to the crosswalks, weaving the demonstrations into the art walk theme.

These Go Human events have received the attention of many nearby communities and interest in the region continues to grow as more cities partner with Go Human to demonstrate safety improvements. Go Human looks forward to future partners in Riverside County, including an event in partnership with La Quinta this weekend and others in 2018.