On January 24, the City of Anaheim celebrated the launch of its new free microtransit service called FRAN – Free Rides Around the Neighborhood. In partnership with Anaheim Resort Transportation (ART), the City launched this new service to operate a fleet of ten all-electric Polaris GEM six-seater vehicles around the Center City area. The shared vehicles arrive on demand via FRAN's smartphone application. The app contains points-of-interest information, and future editions will update driving visitors in real time on where to park near FRAN pick-up spots.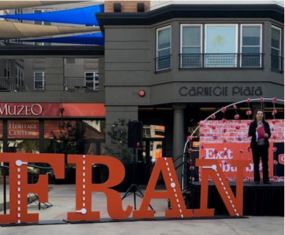 The MSRC provided the City with nearly $240,000 in Clean Transportation Funding to help fund the FRAN vehicles, along with two electric buses. The MSRC helped the City invest in these electric vehicles, in order to enhance clean mobility options around this typically congested area. FRAN does not follow fixed routes but rather visits several fixed stops based on riders' pick-up and destination requests within the Center City area. As Anaheim Council Member Stephen Faessel remarked at the FRAN-unveiling event, FRAN is like Uber or Lyft, but it's free! The MSRC's Outreach Coordinator was on-hand to celebrate this unique funding investment in the MSRC's portfolio of projects.
Able to carry five passengers per vehicle, the initial goal of the service is to serve at least ten riders per hour, while ART learns more about how the public will use the service. FRAN operates seven days a week, generally between 11 am and 10 pm. The agency hopes to expand the service area of the vehicles in the future, including into local neighborhoods.
It's interesting to note that while FRAN is an acronym for Free Rides Around the Neighborhood, the name was inspired by Francisca Avila Rimpau, one of the founders of the historic Anaheim Colony district. Francisca and husband Theodore Rimpau had 15 children, who were influential in the early days of Los Angeles and Anaheim, and each of the 10 FRAN vehicles are named after the couple's daughters and granddaughters.
To find out more information about Anaheim's FRAN, please visit https://rideart.org/fran/