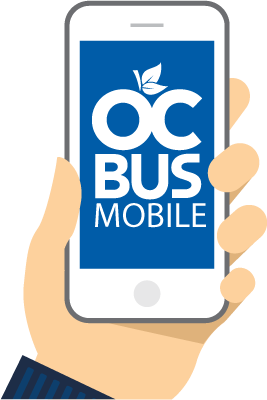 Last year, the Orange County Transportation Authority (OCTA) rolled out its new OC Bus Mobile Ticketing Application to speed up boarding times and make it easier for residents to use transit. Already, nearly one million fares have been purchased with the easy to use app. With a $1.55 million investment from the MSRC through its County Transportation Commission Partnership Program, OCTA developed a mobile ticketing app for customers to purchase fares using their smart phones. The app allows users to board OCTA's buses by displaying valid fare payments using bar codes on their phone. Additionally, the app displays route maps and schedules, and has a robust back-office system that allows OCTA staff to assist riders with their OC Bus mobile application.
OCTA's existing fare collection system had been in place for nearly 15 years, and given the advances in new payment technologies such as phone apps and contactless credit and debit cards, OCTA wanted to modernize its system to be more in synch with the way people travel and make easy digital payments today. The agency's entire fixed route fleet now has electronic readers to accommodate the app. The benefits of mobile ticketing include enabling customers to be able to self-service their rides, providing OCTA with the ability to accept fares from neighboring agencies through electronic readers, and stimulating a growth in ridership because of the ease of use.
In the first six months of the program, 32% of downloads resulted in ticket purchases, while the industry average is 20-40% within the first twelve months. By the fall, there were more than 78,000 registered users with approximately 950,000 fares purchased via the app.  
To find out more information about OCTA's mobile ticketing app, please visit http://www.octa.net/Bus/Mobile/Mobile-Ticketing-App/