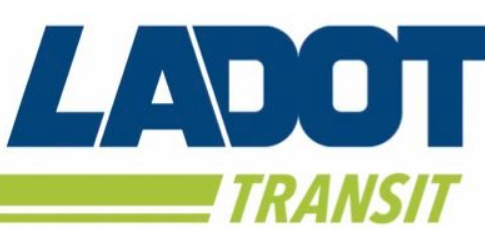 The Department of Transportation in the City of Los Angeles (LADOT) is on a mission to convert its entire fleet of transit buses to zero-emission by the time Los Angeles hosts the 2028 Olympics and Paralympic Games. On February 24, LA Mayor Eric Garcetti announced that the record-breaking order of 155 electric buses is slated to be in service in the next two years.
The MSRC and LADOT partnered on this project through the MSRC's Local Government Partnership Program, which is designed to fund clean air projects to "jumpstart" implementation of the region's 2016 Air Quality Management Plan. The clean air plan documents that air pollutant emissions must be reduced by an additional 75 percent in order to meet the 2023 federal ozone standard. The MSRC provided LADOT with $1.1 million in Clean Transportation Funding toward the purchase of 11 of these electric buses.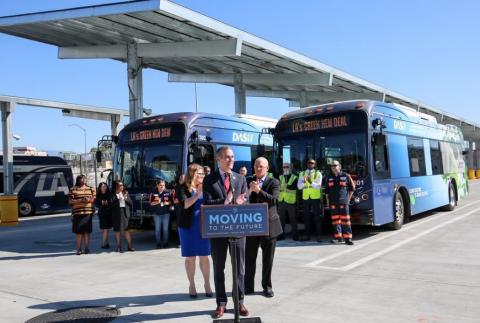 130 of the 155 electric buses will be K7M battery-electric buses manufactured by Lancaster-based BYD. The 30-foot K7M holds 22 seats, has a range of up to 150 miles, and can be charged in 2.5 to 3 hours. It is estimated the 130 buses will reduce greenhouse gas emissions by more than 8,000 metric tons per year and by 98,700 metric tons over the buses' 12-year life span, reducing greenhouse gas emissions by 81 percent compared to LADOT's compressed natural gas buses. The remaining buses will be manufactured by Proterra.
Transitioning to an all-electric bus system is part of LA's Green New Deal – the City's sustainability plan – which sets the target of electrifying 100 percent of all DOT and LA Metro buses by 2030. LADOT's first electric bus was deployed in 2017, and the agency currently has four e-buses in service. Converting to an all-electric bus fleet in the next eight years will be twelve years ahead of the deadline the California Air Resources Board has set for all transit agencies in the state to convert to zero-emission buses by 2040.
In making this announcement, Mayor Garcetti noted that the transportation revolution is happening right now on the streets of LA. "Seeing these zero-emission buses rolling down our roads in the years ahead will bring us one step closer to realizing our vision of cleaner air, lower emissions, healthier communities and a more sustainable future for all Angelenos."
LADOT Transit is the largest operator of municipal transit services in Los Angeles County providing more than 20 million trips to those who live, work and visit Los Angeles. The agency provides commuter bus, neighborhood circulator bus, on-demand first-mile/last-mile service and accessible transportation for seniors and the disabled.