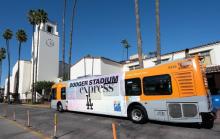 MSRC/Metro night at Dodger Stadium was held on August 9 and fun was had by all! MSRC Member Sydney Vergis was on hand to throw out the first pitch. She was accompanied on the field by MSRC Alternate Mark Yamarone and MSRC-TAC Chair Steven Lee, as well as by LA Metro Board Chair Ara Najarian to celebrate more than a decade of the Dodger Stadium Express service.
Since the service began in 2010, more than two and half million fans have ridden the Express, which has reduced vehicle miles traveled by approximately 24 million miles. The service significantly reduces air pollution, saves fans money on gas and eases traffic congestion, while providing a fun and simple way for fans to travel to and from the game. During just one year – in the 2019 pre-pandemic baseball season – the Express carried nearly 305,000 fans, effectively reducing about 153,500 car trips and 2.9 million miles traveled.
Additionally, the service is designed to encourage people to use public transit to get to the games by closing the gap between existing public transportation routes and the stadium. Surveys have shown that more than 75% of fans who attended day games and 72% of fans who attended night games took public transit to connect with the Dodger Stadium Express at Union Station, and a significant portion of these fans rode on zero-emission Metro rail.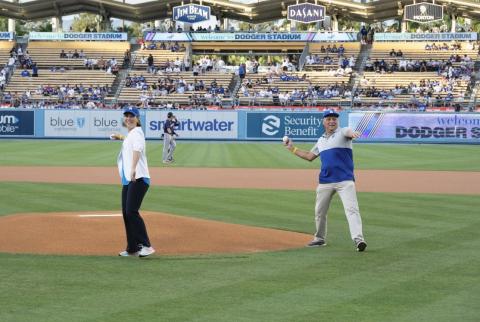 The evening got underway with Sydney being interviewed by local station KCBS/KCAL to talk about the generous support that the MSRC has provided to the Dodger Stadium Express over the years. Then, VIPs boarded the Express with Dodger Hall of Famer Steve Garvey who gave a cheer to the MSRC and Metro for supporting clean air before leading fans on a round of "Take Me Out to the Ballgame."
Once the dignitaries arrived at the stadium, Sydney joined Metro Chair Najarian to throw out the first pitch to kick off the game against the Minnesota Twins. The MSRC was acknowledged by the public address announcer, and the Dodgers went on to beat the Twins 10-3.
The service was recently approved to run through the 2026 season. The Dodger Stadium Express gives Dodger Blue fans the opportunity to go green to the stadium.