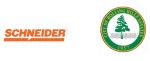 The MSRC kicked off the Summer early on June 7 with press conferences featuring two impressive clean air projects that the MSRC helped make possible. In South El Monte, the MSRC celebrated its partnership with Schneider and other regional and state clean air agencies to support Schneider's 50 new battery-electric trucks and supporting infrastructure. Leaders from the MSRC, California Air Resources Board (CARB), the California Energy Commission (CEC), and South Coast Air Quality Management District (SCAQMD) all spoke during the press event and recognized Schneider's clean air commitment that was funded through the innovative JETSI (Joint Electric Truck Scaling Initiative) partnership designed to demonstrate strategies to successfully scale market penetration of zero-emission technologies.
MSRC Vice-Chair and Jurupa Valley Council Member Brian Berkson was a featured speaker at the press conference (see photo). "With the help of these partnerships, Schneider is making one of the earliest large-scale deployments of zero-emission technology in Southern California," Brian said. "As a Jurupa Valley resident in the heart of the Inland Empire, diesel emission particulates have hit many of our neighbors with health issues. This is a big key turning point, in my opinion, and I have been promoting this project for a couple of years, ever since this project came to us at MSRC. We look forward to seeing your new orange Schneider electric trucks on the road."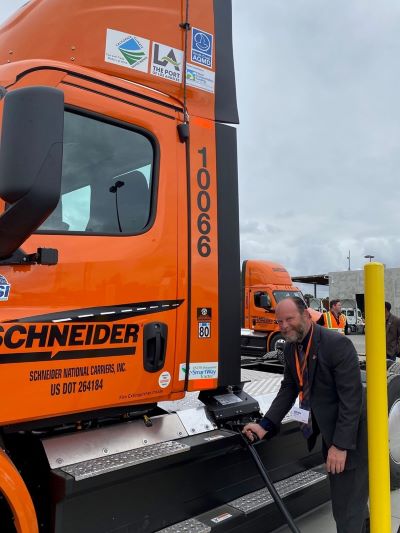 The new Freightliner eCascadia trucks will be able to charge at 16 350 kW dual-port chargers on their site. This will allow 32 trucks to charge at the same time. These trucks can achieve an 80 percent charge within 90 minutes.
California Air Resources Board Chair Liane Randolph said she was very excited to see so many key partners come together to bring our zero-emission future to life. "Today is a celebration of what's possible. You know the old saying 'those who say it can't be done are interrupted by those who are actually doing it,' and that's what we have here in front of us."
California Energy Commissioner Patty Monahan noted that this project is emblematic of wanting to make the world a better place for our children's future. "This project is part of the transition of leaving the world a better place. All of the project partners that you've heard about that have come together to collaborate to make this change happen is so impressive. It takes a village to really make the transition work in a way that's good for business, good for the economy, and good for public health, and so it's really inspirational to see this project come to fruition."
SCAQMD Board Member and City of South Pasadena Council Member Michael Cacciotti said his agency is a leader, along with CARB, the CEC, and the MSRC, in putting forward clean technology development. "The JETSI initiative is one of the first public-private partnerships made up of AQMD, CARB, CEC, MSRC, the Port of Long Beach, the Port of LA, and Edison, that collaborated to deploy 50 zero-emission trucks and 16 350 kW chargers."
Through additional grant funding, Schneider will add an additional 42 trucks to its fleet by the end of the year. These 92 e-trucks will make Schneider one of the largest zero-emission truck fleets in North America. Together, these trucks will have the potential to avoid more than 81,000 pounds of carbon dioxide emissions per day, the equivalent of taking 2,400 gasoline-powered cars off the road. According to Schneider, the new trucks will accelerate the company's progress toward its goal of reducing carbon dioxide emissions by 7.5 percent per mile by 2025, and 60 percent per mile by 2035.   
Over in Rolling Hills Estates, the City hosted a ribbon cutting ceremony for its new electric vehicle (EV) charging stations. These publicly accessible charging stations are located at City Hall.
The MSRC provided $40,000 in Clean Transportation Funding toward the purchase of the City's new all-electric 2022 Chevy Bolt and the installation of two new Level 2 charging stations through the MSRC's Local Government Partnership Program. This program offered local agencies that participate in the AB 2766 Motor Vehicle Subvention Fund Program a pro-rata share of available funding to "jump-start" their clean transportation projects.
MSRC Member and Fountain Valley City Councilman Patrick Harper (see photo) joined the City's Mayor and fellow City Councilmembers to cut the ribbon to celebrate the City's clean air investments. "Today, the MSRC applauds the City's clean air achievement with the opening of these new charging stations," he remarked. "Not only will encouraging more people to use zero-emission vehicles help to clean up our air, but it also will help reduce our dependence on foreign oil."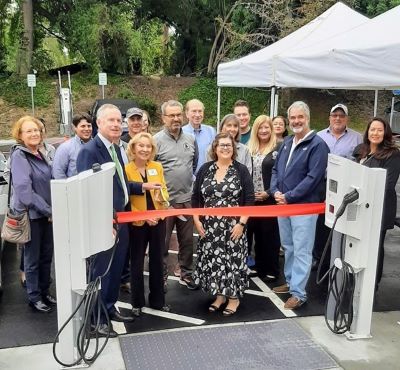 Through additional investments, the City was able to expand the project to increase the number of chargers to a total of five dual-port Level 2 chargers and two-single port stations. This will enable 12 vehicles to charge simultaneously at this location.
The City is now home to four EV charging sites – City Hall, the Peninsula Center Library, the Silver Spur Court Condos, and the Promenade on the Peninsula Shopping Center.